Saturday, June 30, 2007
Miss Amazonia 2002 the venezuelan Aida Yespica and her boyfriend 28 year old AS Roma's footballer enjoy holiday at the sea side in Ostia, a large neighborhood in the comune of Rome, Italy, on the coast facing the Tyrrhenian Sea, on June 20, 2007.
After winning "Miss Amazonia 2002", Aida Yespica moved to Milan, Italy to start her modeling career back in 2003. She has become a big star in the Italian entertainment business and has graced the covers of multiple magazines including GQ and Maxim. Aida appears regularly in Fashion TV and RAI doing photoshoots, fashion comercials or as a presenter.
Matteo was born in Algeria, but from an Italian father and a Guinean mother. He grew up in Ferrara and has a brother who also used to be a football player.


Posted by Roxxy_007 at 11:13 PM 2 comments

Labels: AS Roma, beach, brunette, holiday, italian football, Italy, model, Rome
Victoria Beckham with her husband David Beckham, the new star of L.A Galaxy arrive at Heathrow Airport in London, England on June 28,2007.
The Beckhams were actually vacationing in Bali - they had a connecting flight from Singapore. They will be going to France onMonday/Tuesday with their sons for a family vacation before flying to Los Angeles on July 12.The following Saturday night 23 June 2007, via LA Galaxy television ads and at the Home Depot Center itself, he was being touted as a possible player - for his LA Galaxy debut - in their very next match, a regular season match versus Chicago Fire, in a special "Football and Fireworks" night on the U.S. Independence Day 04 July.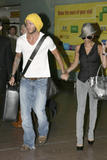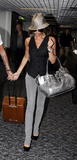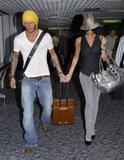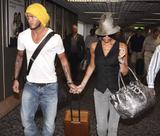 Posted by Roxxy_007 at 11:59 AM 0 comments

Labels: airport, England, L.A Galaxy, soccer, vacation, wife