As we all know this beginning of summer was a crowded one for our english footballers because of their weddings, Chelsea's star Joe Cole & his girlfriend Carly Zucker not only attended John Terry & Toni's wedd, but also the Michael Carrick & Lisa's one, both hosted in England.

- june 15, 2007 - Joe Cole arrives at John Terry's wedding, held at Blenheim Palace near Oxford:


- june 16, 2007 - England and Chelsea 's Joe Cole and Carly Zucker at the wedding of Michael Carrick and Lisa at St Peter's Church, Wymondham: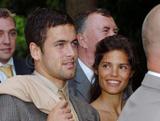 Joe Cole is engaged to fitness instructor Carly Zucker. The couple live in Cole's £5 million home in Cobham, Surrey. According to close friends, Cole is expected to marry her in summer next year. A rumor had it that during one weekend he had proposed to her with a £50,000 wedding ring.